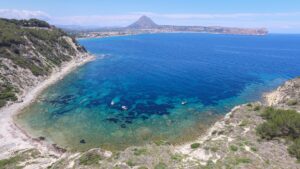 Beaches and coves in Jávea | Xàbia
Jávea is located on the Costa Blanca of Alicante in Spain, a landscape of cliffs and small coves with stretches of beach on flat terrain where you can do all kinds of activities such as swimming, diving, fishing, sailing...
Join us to discover the beaches and coves of Jávea, where you can enjoy the sun, the sea and the tranquility, a place to find the balance between rest, entertainment and fun.
Jávea has the greatest variety of beaches and coves in the entire province of Alicante.
Grava Beach is an urban beach, located in the fishing district of Duanes de la Mar. This beach has an area of 290 meters and its occupation is usually medium. It is surrounded by a large promenade, 500 meters long, which makes it the meeting point for visitors and tourists due to its wide range of leisure activities as well as the spectacular views it offers of the bay of Xàbia.
Montañar Beach or  Benissero Beach is the largest beach in the municipality as it is approximately 2 km long and 30 meters wide. It is a semi-urban beach that is characterized by the great history of Roman times that its rocks hide, as well as its leisure offer, since it is the only one that on its entire coastline houses the 'chiringuitos'.
Ministro cove is located in a privileged place between the Primer Montañar and Playa del Arenal. In addition, an archaeological site from Roman times is located in this corner.
Arenal Beach is the only sandy beach in the entire municipality. With its 480 meters in length, it is an urban beach with shallow waters and coarse sand. It is located in the main tourist center of the town and is one of the best known and most frequented beaches by bathers. Among its charms are its views and its wide gastronomic and leisure offer.
Montañar II – Las Roquitas Beach, also known as the Sèquia de la Noria has a length of approximately 1,700 meters and meters wide. Its occupancy rate is low because it is made entirely of rough stone, although this is the charm of this beach. In these rocks you can see the carving and the extraction of the rough material for construction. On this beach is the Séquia de la Nória Viewpoint, a channel dug over the "toscar" that facilitated the entry of seawater into some salt flats.
Cala Blanca or Caleta cove, this small cove is 80 meters long and is the favorite corner of many visitors and residents of Xàbia. Its name, Cala Blanca, derives from the whitish color of the rocks on its cliffs.
Francés cove is located between Cala Blanca and Cap de Sant Martí. It is an almost hidden place that is difficult to access. It can only be reached by sea or on foot along a hidden path. Its name is due to the well-known French painter, André Lambert.
Sardinera cove is a small virgin cove approximately 200 meters long, which makes it even more special. Its name comes from the fact that it was once the perfect place for sardines and these fine nets were set twice a day, during sunrise and sunset. The access to this cove is also what makes it special, since it is not direct, but the only way to get there is on foot, entering nature from the Mirador de la Cruz del Portitxol or by sea.
Barraca or Portitxol cove, the old white and blue fishermen's houses and the island of Portitxol are the main charms and attractions of Cala de la Barraca or Portitxol, which make it a must-see. On the one hand, the famous blue door that invades social networks is located in this corner of Xàbia and on the other, the island, of great botanical and archaeological interest, located in front of the beach or cove, make it the place desired by many tourists.
Ambolo cove is a nudist beach, the only one on the Xàbia coast, virgin, with crystal clear waters and made of gravel. Its length is about 300 meters and is currently closed due to the risk of landslides.
Granadella cove, located in the Parque Forestal de la Granadella and with 160 meters in length, Cala de la Granadella becomes one of the most desired corners by visitors. Its crystal clear waters and secluded landscape characterize this cove as one of the best.
Beaches and coves in Jávea | Xàbia, Granadella, Ambolo, Barraca, Portitxol, Sardinera, Francés, Blanca, Caleta, Montañar II, Primer Montañar, Benissero, Arenal, La Grava.