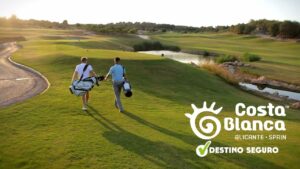 Golf courses in the Costa Blanca
Millions of tourists looking for the Mediterranean lifestyle, sun, tranquility, friendly people, gastronomy, Golf ... the Costa Blanca North of Alicante in Spain has all the requirements to buy a home and spend long seasons enjoying life and slow life
Disconnect from everyday life and enjoy relaxed sports, such as the practice of Golf on the Costa Blanca.
The Costa Blanca is one of the main places for golf throughout the year. You can enjoy a complete infrastructure of fields with excellent sports facilities and, what is more important, with an enviable climate that together with the few days of rain has allowed the Costa Blanca to be one of the main destinations in Europe for the Golf practice, especially during the winter.
Golf courses near Holidaydream estate agent:
Ifach Golf Club - Benissa
The Ifach Golf Club is located just 2 km from Moraira Bay, between Benissa and Teulada, in the province of Alicante. breathtaking views of the Peñón de Ifach
The Ifach golf course has 9 holes (six pairs 3 and three pairs 4)
Technical difficulty: Moderate
Contact information
Urbanization San Jaime, Calle Micheta, 5, 03720 Benissa
Tel · 96 649 71 14
Email · info@golfifach.com
www.golfifach.com
Jávea Golf Club - Jávea
The Jávea Golf Club is sheltered from the winds by the Cabo de San Antonio, the field has a perfect microclimate all year round, it is in a wonderful natural environment, surrounded by pine trees. The Jávea golf course has 9 holes, technical difficulty: Easy
Contact information:
Ctra. Javea - Benitachell, km. 4.5
03730 Javea / Alicante
Tel .: 965792584
caddies@clubdegolfjavea.es
www.clubdegolfjavea.com
Altea Golf Club - Altea
The Altea golf course is just 5 minutes from Altea and 15 from Benidorm and Calpe, between the sea and the mountains. The Altea golf course has 18 holes, Technical difficulty: Moderate - Difficult
Contact information:
Sierra Altea Golf s / n. 03599 - Altea la Vella (Alicante)
T. (+34) 965 848 046
info@alteagolfclub.com
www.alteagolfclub.com
La Sella Golf - Dénia
The 27-hole La Sella golf course was designed by José María Olazábal, is surrounded by an environment of pure and Mediterranean nature, you can play all year round. The La Sella golf course has 27 holes. Technical difficulty: Moderate - Difficult
Alqueria de Ferrando, s / n, 03749 Jesus Pobre-Denia, Alicante
Phone: 966 45 40 54
lasella@arrakis.es
www.lasellagolf.com
Oliva Nova Golf Resort - Oliva
The Oliva Nova golf course was designed by Severiano Ballesteros. Its exceptional situation and the surrounding environment make this golf course one of the Costa Blanca's favorites, as both the course itself and the infrastructures of the highest level available, make it comfortable at all the aspects. The Oliva Nova golf course has 18 holes. Technical difficulty: Moderate - difficult.
Contact information:
Avinguda Dali, 4, 46780 Oliva, València
Phone: 96 285 76 66
golf@olivanova.com
www.olivanova.com
Puig Campana Golf
The golf course "Puig Campana Golf" is located in Finestrat and was designed by Sterling & Martin. Its exceptional situation and the environment that surrounds it, looking west, we have the beautiful town of Finestrat hanging between the mountains that surround it and crowned by Puig Campana. While playing the holes that go down, you can clearly see the sea, the coast of Villajoyosa and Benidorm. Puig Campana Golf" has 9 holes. Technical difficulty: Moderate - difficult.
Contact information:
C/ Morella, 14 (H) Club Social Urbanización Alfarella
03509 Finestrat (Alicante)
Telf. 637 44 50 45 / 637 44 50 48
golf@puigcampanagolf.es
www.puigcampanagolf.es
Golf Pitch and Putt Sierra Cortina Finestrat
The "Pitch and Putt" golf course is an 18-hole PAR THREE course, located on the shores of the Mediterranean, at the foot of Puig Campana in Sierra Cortina Finestrat and just three minutes from the center of Benidorm. Ideal both for beginners who are starting out in the world of golf, and for those who are already experienced players. The shortest street is 55 m long and the longest is 100 m long.
Players will be able to play avoiding different obstacles, two artificial lakes and magnificent greens that will make them enjoy practicing their short game.
The Pitch and Putt has a practice course and putting green, a golf school, private and group courses with qualified teachers and a clubhouse with cafeteria and pro-shop.
Contact information:
C/ Amsterdam, s/n. (Urb. Sierra Cortina)
03509  Finestrat, Alicante-Alacant  (Comunitat Valenciana)
Tlf.:+34 966112093
pitchandputt@sierracortinaresort.com
www.sierracortinagolf.com
Villaitana Golf Benidorm
Villaitana Golf is located in Benidorm, it consists of two courses designed by Nicklaus Design.
WEST FIELD
The Poniente Golf Course par 62 of 3,858 meters in length, medium and high Handicap.
LEVANTE FIELD
The Levante Golf Course or "Championship" par 72 of 6576 meters in American style with wide fairways, exquisitely molded greens and more than 6,576 meters in length, enjoying wonderful views of the Mediterranean Sea and the Sierra de Finestrat.
Contact information:
Avda. Mayor Eduardo Zaplana, 7
03502- Benidorm
Tel. +34 96 681 3013
caddymaster@melia.com
www.meliavillaitanagolf.com