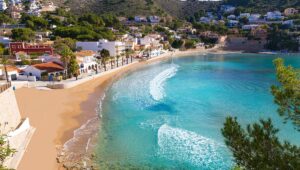 Beaches and coves in Moraira
Sandy beaches, pebble coves or huge rocks polished by the sea, the coast of Moraira has become a place full of calm, where nature and the Mediterranean are the true protagonists.
The coastal town of Moraira is bathed by a total of seven beaches and coves. Sea lovers have three large fine sand beaches and a total of four coves to enjoy nature.
Cala Llebeig is one of the most special in the town because it is the most difficult to access, which makes it one of the least crowded and preferred for those who want to spend a day at the beach with impressive views and a crystalline sea without the crowd of tourists who are in the other coastal areas of the town.
Cap Blanc Cove is a small beach 200 meters long and 8 meters wide, it is also known as Punta Estrella and is one of the most unknown in the town because it is located in a rugged area. Cap Blanc is also a great option for those who want to enjoy a pleasant bathing day without the crowd of tourists, since it is usually less crowded than the other beaches in the town, it is also a recommended bathing area for water sports, such as fishing, diving or snorkeling.
L'Andragó Cove is a quiet rocky cove 150 meters long and 50 meters wide. In addition to its crystalline waters and its perfect state of maintenance and conservation, Cala l'Andragó houses a viewpoint where you can contemplate beautiful views of the town of Moraira and its emblematic 18th-century watchtower.
Les Platgetes beach, is made up of two coves of sand and rock joined together, 200 meters and 25 meters wide. One of its main attractions are the beautiful views of the coast that can be seen from its viewpoint, located on a landscaped promenade where there is parking for vehicles and some restaurant areas and basic services for bathers, such as toilets, walkways wood to the beach, umbrella rental, lifeguard service to deal with any emergency and even an access channel to the sea for small boats.
L'Ampolla beach is the best-known and most popular beach in Moraira, an urban beach, with fine sand, being located within the urban area of the town, it is fully accessible and has a large parking area for vehicles.
L'Ampolla de Moraira is one of the most beautiful beaches on the Costa Blanca due to its privileged location, next to the Marjal del Senillar and at the foot of the Castle and the Watchtower of Cap D'Or, and its impressive views of the Peñón de Ifach.
Portixol Cove, a small rocky cove 80 meters long and 6 meters wide is located in front of the mouth of the Club Náutico de l'Moraira and is ideal for practicing fishing or water sports such as snorkeling or scuba diving thanks to its crystal clear waters and very clean, ideal for those seeking tranquility and disconnection in a paradisiacal place.
Portet beach, a beach of fine sand and turquoise waters, 350 meters long and 20 meters wide in the shape of a shell. It is considered a semi-urban beach and is bordered by a beautiful promenade. During the months of July and August and in order to guarantee the best attention to bathers and visitors, El Portet beach offers a multitude of services, such as toilets, walkways to the sea, canoe and canoe rental area, safekeeping of objects , showers and surveillance and lifeguard area to deal with any incident or emergency on the spot.
El Portet beach is considered one of the best sandy beaches on the entire Levantine coast, not only for the quality of its waters and its multiple services, but also for being a quiet beach with hardly any waves. In addition, you can contemplate some privileged views of the Peñón de Ifach, symbol of the Alicante town of Calpe, very close to Moraira.
Beaches and coves in Moraira, Llebeig cove, Cap Blanc cove, L'Andragó cove, Les Platgetes beach, L'Ampolla beach, Portixol cove, El Portet beach